2019 Honda CR-V First Look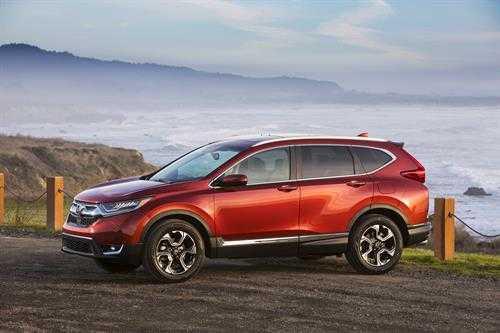 Although it seems hard to remember a time when there wasn't a Honda CR-V, the nameplate has only been with us since 1997. That means compared to the likes of the Civic and Accord, the CR-V is still something of a relative newcomer. Even so, the CR-V is one of the top-selling SUVs on the market, so here's what you can expect from the very latest 2019 Honda CR-V.
.
How it Looks
The CR-V compared to its rivals is now sleeker, sexier and more futuristic than this fifth-generation CR-V that's been with us now since late 2016. Its exterior design is like a safe pair of hands; there's nothing to put anyone off but it wouldn't hurt to inject a bit of the "wow factor" into its design. It's certainly not dated in any way though, and when more is learned about what makes this vehicle so globally successful it's easy to forgive any minor disagreement you may have with the styling.
.
Engines and Performance
There are turbo and non-turbo versions of the CR-V and front- and all-wheel drive is available with both types of engine. Base models come with the capable and incredibly dependable 2.4-liter inline-four that produces 184 horsepower and 180 lb.-ft. of torque. Those buyers wanting more power and increased levels of refinement need to check out the 1.5-liter turbo-four which then puts 190 horsepower and 179 lb.-ft. of torque at the Honda's disposal. Both engines come mated to a CVT transmission that works very well with both powerplants. The CR-V doesn't handle like a sports car and it doesn't ride like a luxury limousine, but at the end of the day it's a crossover and it's meant to strike a good balance, and it does. It handles corners cleanly and it's nippy around the city, but out on the highway it can also be a smooth, comfortable cruiser too.
.
Interior
Climb inside the 2019 CR-V and you'll soon wonder why some buyers spend a whole lot more of money on so-called luxury models that don't deliver as nice an interior environment as the CR-V, but still comes with substantial price tickets. The view out from every seat is exceptional, the seats are stylish and very comfortable, there's plenty of room for passengers and cargo, and the quality of the materials and build is exceptional.
.
Features and Equipment
Entry level LX models can look a little low on features compared to the rest of the CR-V lineup, but that's more down to how good the others are rather than the LX being lacking for an entry model. Step up to the EX and you're already into the likes of that more powerful 1.5-liter engine, a 7.0-inch touchscreen for an infotainment system with Apple and Android compatibility, heated front seats, a power driver's seat, a power moonroof, and 18-inch alloy wheels.
.
To find out more about the 2019 Honda CR-V get in touch with us here at JL Freed Honda right away.