When to Say Yes to a Honda "Extended Service Plan"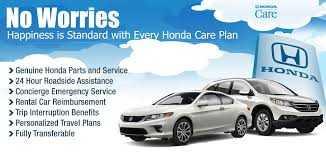 The best time to consider a Honda Care Vehicle Service Contract (VSC) is when you're buying a new vehicle you plan on keeping for an extended period of time, or when you're purchasing a used vehicle. A Honda Care VSC provides benefits your manufacturer's warranty does not.
Honda Care is an extended service contract offered by the brand to protect your vehicle's mechanical components. It supplies protection in cases of an issue with the engine, transmission, suspension, air conditioning, heating or fuel system.
The Honda New Vehicle Limited Warranty and Honda Care Vehicle Service Contract cover similar components and provide similar benefits. The Vehicle Service Contract coverage of those components and services begins when the New Vehicle Limited Warranty coverage has expired, so you're not paying for overlapping coverage.
For example, with Honda Care, you'll get roadside assistance and rental car coverage when your vehicle is being serviced for covered repairs, and extensive component coverage. And you can bring your covered vehicle to any authorized Honda dealer in the United States for service under the VSC, performed by factory-trained Honda technicians using Honda Genuine Parts. If no Honda dealership is available within towing distance, repairs may be made at a Honda Care-authorized service center, so you know you're covered no matter where you travel across this country.
If you plan of keeping your new vehicle for an extended period of time, or you're purchasing a used Honda that's still under warranty coverage, it's still a good idea to purchase a Honda Care Vehicle Service contract. It protects you from having to pay for costly repairs out of pocket once the warranty expires.
Honda Care VSC coverage for new Honda and used Honda and non-Honda vehicles provides for Roadside Assistance, Component Coverage, Rental Car Reimbursement, Trip Interruption benefits, and Concierge Services.
Covered components include Engine, Transmission, Differential and Axles. In regards to electronics, all Computers, Electronic Components and the Electrical System are covered. On the chassis, the VSC covers Suspension, Steering and Brake Systems, while on the inside Heating and Cooling Systems repairs are covered. In addition Honda Genuine Accessories: Audio and Communication Devices and Accessories, Navigational and Security Systems are all included.
Coverage for a New Honda Vehicle Plan begins when the vehicle is originally put into service and at zero miles. Coverage for Pre-Owned and Powertrain Plans begins on the vehicle service contract purchase date and at the mileage on the odometer on that date.
A few other features to consider are that you can include Honda Care VSC within your monthly car payments, with the VSC charged at zero percent interest. The VSC is also transferable, should you decide to sell your vehicle sooner than you'd planned.
For more information on Honda Care and its availability, stop by our dealership today and talk to the sales team at JL Freed Honda. For all your Honda Care repairs and service, come see our Honda-Certified Service Department or book an appointment today. We understand your car care needs at JL Freed Honda.