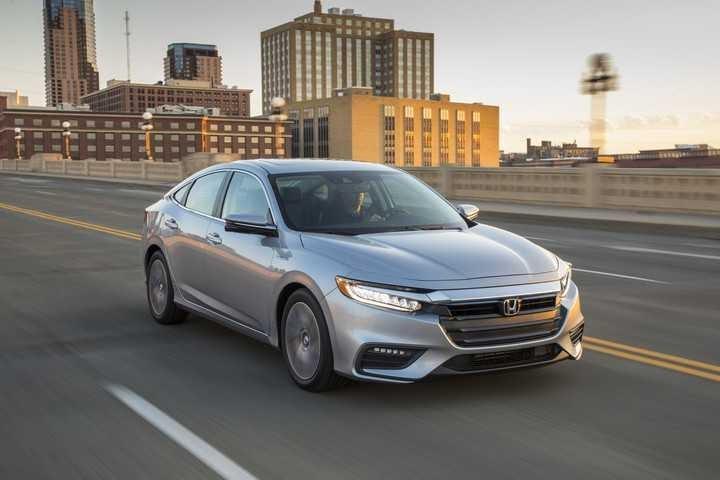 Personal safety is Honda's top priority. Known for our rigorous safety standards and innovative technologies to keep our drivers and the people they care about safe, we developed the Honda Sensing Suite.
At JL Freed, our sales team educates our friends and neighbors here in Montgomeryville about the specifics of Honda safety and what it means when the Honda Sensing Suite is standard in your vehicle.
Safety for Everyone
Honda is not only interested in protecting our customers. We work hard to ensure everyone in contact with a Honda has some measure of safeguards. Honda has adopted a global safety philosophy of "Safety For Everyone." This philosophy embodies Honda's commitment to protecting not only drivers but passengers and pedestrians, too. We have two basic concepts for safety strategies: Active Safety Technology and Passive Safety Technology.
The Active Safety Technologies are those that are always at work so you can focus on what's most important - driving! Some of the standard Active Safety Technologies available on most Honda makes and models are:
Multi-Angle Rearview Camera. How many bicycles have been massacred because drivers couldn't see them from the camera angle at hand? With this gem, you can choose from three different angles to ensure the best, clearest view you need: normal, top-down, and wide. Get the best view of what's behind you every time you shift into reverse.
Active Stability Systems include:
Vehicle Stability Assist (VSA). The VSA is turned on automatically every time you start your vehicle. VSA provides you with traction and stability enhancement for steep turns and sharp corners. It's working - even if you're not aware it's working.
Anti-Lock Braking Systems. We use sensors at each wheel that send wheel-rotation speed data to an electronic control unit (ECU). When the ECU suspects wheel lock-up during braking, it reduces brake-line pressure until the wheel begins to turn again.
Passive Safety Technologies include:
ACE Body Structure. The ACE body structure is a Honda-exclusive body design that enhances occupant protection and crash compatibility in front-end collisions by distributing crash energy more evenly throughout the front of the vehicle. This energy distribution lessens any potential damage.
Front Seat Belts With Pretensioner. If a front-end impact is detected, the front seat belts instantly retract, but then give slightly depending on whether the load exceeds a certain amount. This reduces the amount of pressure applied to the occupant's chest and reduces unintended injury.
Advanced Airbag Technology. Every Honda is equipped with advanced front airbags. Select models are also equipped with SmartVent front side airbags, side curtain airbags with rollover sensors, and front knee airbags to help, too.
Honda Sensing Suite
The Honda Sensing Suite is an exclusive intelligent suite of safety and driver-assistive technologies designed to alert you to changes you can make to be safer on your journey. Elements of the Honda Sensing Suite are available in all makes and models. Be sure to ask your JL Freed sales associate which are standard and which can be added to the vehicle in which you're most interested.
Collision Mitigation Braking System. We all try to be alert while driving at all times, but sometimes distraction is unavoidable. If sensors detect that a frontal collision is possible, it alerts the driver. If sensors determine collision is unavoidable, sensors help apply brake pressure for a faster, more effective stop.
Road Departure Mitigation System. If, for any reason, you cross detected lanes without signaling, this system will alert you to the fact you're drifting. If corrective action isn't taken, the system adjusts steering and braking to help you stay within your lane.
Adaptive Cruise Control. Not only do you get to set the speed you'd like to maintain, but you also get to set the amount of space you'd prefer to keep between your car and other traffic. Once it's set, you're all set, too. Our sensors can control the rest.
Traffic Sign Recognition. When your vehicle passes a speed limit sign, the camera captures the image and displays it on your vehicle display. No more questions about how fast you can go, or if you should slow down. With this system, you'll always know what's expected.
About Us
We are proud to be a part of a company that places such importance on safety. Honda's award-winning safety features definitely set us apart from the rest.
At JL Freed, we have been serving our friends and neighbors in Montgomeryville long enough to know what you're looking for in top-quality vehicles and in a dealership. We know you'll find what you're looking for with us!
Visit us today and let us show you all the safety features available in the Honda makes and models in which you're interested. Once you see all Honda offers, you'll drive with more confidence and assurance than ever before. Call us TODAY.