2019 Honda Pilot for Sales in Montgomeryville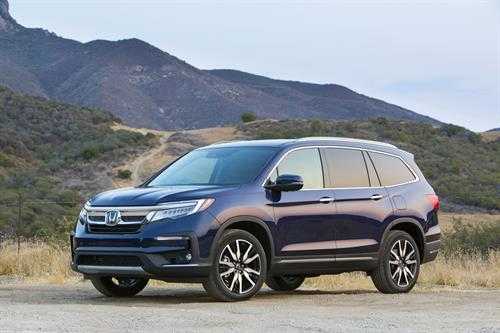 If you're in the market for a new vehicle that's safe, well-equipped, has plenty of power, is good value for money, and can accommodate up to eight people, you're pretty much left with a choice between a minivan and a sizeable SUV. It wouldn't be unreasonable to assume a more desirable SUV could cost more than a utilitarian minivan, but if you did think that way, you're probably not familiar with the Honda Pilot. If you're looking for a family vehicle that checks all the boxes above, here's what the 2019 Honda Pilot has to offer.
Exterior styling
The first thing most shoppers will love about the way the midsize Honda SUV looks is that it doesn't look like a minivan. Don't get the wrong impression, nothing matches a minivan for people-hauling capability and versatility, and plenty of people choose them for that reason. However, nobody buys a minivan for the way it looks, so that gives the Honda crossover a big head-start.
For the 2019 model year, the Pilot has been given a few cosmetic tweaks such as new LED headlights and a revised front grille. It doesn't massively date last year's model, but the enhancements are still welcome.
Powertrain
Honda keeps things nice and simple with the Pilot's powertrain, as all models come with the same engine. In a vehicle capable of transporting up to eight people, you really do need a good helping of power to handle a full load, and the Honda doesn't disappoint. Under the hood is a 3.5-liter V6 that develops 280 horsepower and 262 lb.-ft. of torque, which lower trims get mated to a six-speed automatic, and higher trims combine with a nine-speed automatic. Front-wheel-drive is the standard format, but all models can be upgraded to all-wheel-drive.
Interior
Considering this is a midsize SUV and not a full-size model, there's a sensational amount of room inside with 152.9 cu.-ft. of passenger volume. Don't assume the third-row is an afterthought either because it certainly isn't and it's very usable. There's a decent amount of storage capacity behind the third-row with as much room as the trunk of a large sedan, and plenty of clever storage solutions for smaller items throughout the cabin. Lower trim levels are smart and durable, while top trims get a little more opulent.
Safety
Honda is almost a byword for vehicle safety, and the 2019 Honda Pilot is no exception to that welcome stereotype. What used to be an optional suite of advanced safety features has now been made standard for this year. This means every Pilot now comes standard with adaptive cruise control, automatic emergency braking and active lane control.
To find out more about the 2019 Honda Pilot, to arrange a test drive, or to check out the best new and pre-owned Honda inventory in Montgomeryville, don't hesitate to get in touch with us here at JL Freed Honda today. Click here for directions.