2019 Honda CR-V for Sale in Montgomeryville, PA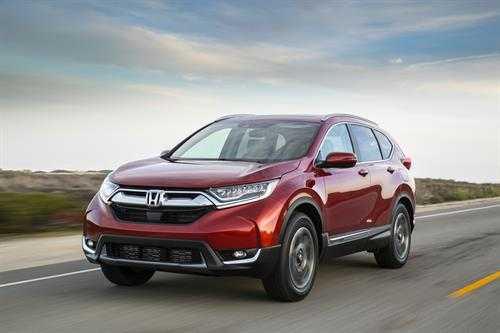 The Honda CR-V has been one of the biggest-selling compact crossover SUVs for about as long as we've had compact crossover SUVs. A model doesn't sell as many units as the CR-V has done and to be at the top of the sales charts for as long as the Honda has been unless it's something pretty special. The current fifth-generation has been with us for a couple of years now, so let's take a closer look at why the 2019 Honda CR-V is as popular as ever.
Styling
The CR-V has never delivered revolutionary, cutting-edge exterior styling, and that's probably an integral part of its enduring success. There may well be more daring designs out there, but for every buyer drawn to a design that massively stands out from the crowd there's likely to be at least another who will find it polarizing and potentially off-putting. This fifth-generation CR-V is really easy to like, it's extremely contemporary, and nobody is going to be put off by its styling before they get round to test driving it. From the front it now looks like a taller version of the latest Accord, which can't be a bad thing at all.
Performance
The powertrains and performance of the latest Honda CR-V are a lot like its styling, which means Honda has got it absolutely right. The 2.4-liter base engine develops 184 horsepower and 180 lb.-ft. of torque, which is sent to the front or all four wheels through a CVT transmission. However, most buyers will probably opt for the even more impressive 1.5-liter turbo-four instead. The 1.5-liter turbo is the standard powerplant in the EX trim level and higher and it puts out 190 horsepower and 179 lb.-ft. of torque. Once again, it comes mated to that CVT transmission and can be had in front or all-wheel drive formats. The 1.5 doesn't sound on paper as though it's notably more powerful than the base engine, but it does work extremely well with the CVT to deliver the performance the driver needs when they want it, while also being as tame as a kitten when necessary.
Interior
There are compact crossover SUVs out there with a little more interior space for cargo and passengers, but few, if any, can offer quite as much as the Honda does with these exterior proportions. This interior is a blueprint of how to make the absolute most of the available space, as well as how to do it in a way that's also flexible, practical and very comfortable. The high seating position and relatively low dashboard give the kind of confident feeling crossover buyers look for, and there's ample room for three people in the rear seat. The cabin is nicely put together, most of the interior materials are of a very good quality for this class, and a low load floor means heavy, awkward items are easy to get in and out of the back of the CR-V.
Safety
We expect any Honda to get good safety ratings, and the CR-V is certainly as big on safety as anything in its class. Every version of the CR-V other than the base model comes standard with features like forward-collision warnings with automatic emergency braking, adaptive cruise control, and active lane control.
For more information about the 2019 Honda CR-V and to schedule a test drive to experience it for yourself, don't hesitate to get in touch through our website or visit JL Freed Honda in Montgomeryville today.